Rosemary
R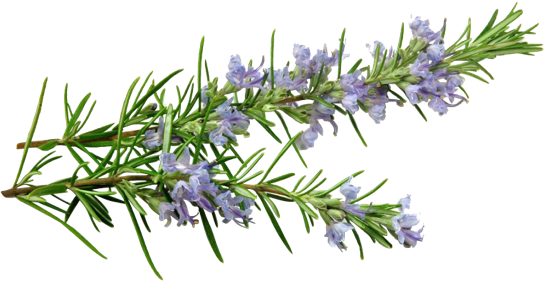 Shakespear said : "From the properties of Rosemary, we could write an entire book."
The strength and vitality of Rosemary make it the best of essences, and also thanks to its properties : it tones up muscles and the cardiac system, fights breathing infections, helps with blood flow problems being perfect against varicose vein. It also has a cardiac stimulating effect which acts against hypotension. It increases energy flow, has a painkiller and antirheumatic effect, and helps with gastric issues as ulcers, gastroenteritis, vomiting, constipation. It is the plant of happiness. It is anti-inflammatory and antiseptic  and soothes menstrual pains.
Rosmeary is a plant with a strong symbolic meaning since the Ancient Greece. They told that it helped for a good memory, so Greek students used to put crowns of Rosemary, before exams.
The Rosemary that we use in our formulas is 100% natural and certified by Cosmo-Ecocert.