Shea Butter
S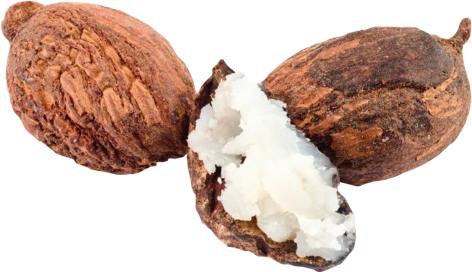 The Shea tree is wild and native from Africa. The elaboration of this butter is carried on by several groups of women that gather and wash the almonds to crush, toast, and grind them until getting a paste. This paste is heated and filtered to remove the impurities from it.
Our organic shea butter comes from the nuts of this African tree. It is totally natural and everyone can use it, from babies to elderly people. It can be applied on the face, body, hands, elbows, feet, knees, lips, and intimate areas.
The exclusive characteristic of Shea, the secret that turns it into a unique product, is its high content of «unsaponifiables» (from a 12 to an 18 percent), which are essential for improving the tone of the skin and to regenerate it and keep its elasticity.
Shea butter, despite its oily appearance, is not comedogenic (does not produce pimples) thus, it is great for the care of all types of skin, from the most sensitive ones to the most oily.
Applications:
It is very useful as a shave cream for sensitive skins: apply a thin layer before washing with soap and the shave will be easier and without irritation.
It can also be used as a hair mask: Apply on the hair and wrap with a towel for 20 minutes, rinse. It is ideal to nourish the dry hair.
You can also use it to make your skin softer and smooth: fill the bath tub with water and add a tablespoon of Shea butter, it will spread a thin layer over all the body and it will get smoother, hydrated, and very soft.
The Organic Shea Butter also prevents the formation of sores, it will regenerate bounds, and it will activate the dermal circulation of herpes.
It also works as a natural sun lotion. It is soothing, for skins that tend to get red easily, with tendency to allergies.
People with MCS (multiple chemist sensitivity) can perfectly use it as a daily cosmetic.
It is a cosmetic very rich in vitamin F, with good results against psoriasis.
During pregnancy: it prevents the outcome and formation of stretching marks. During lactation, prevents the formation of cracks on the breast and protects the baby from redness because of nappies. You can apply it as many times as needed.